This pretty girl comes to us from her breeder Tetyana Marina - 

her kennel name is "Lion Chaser" and she is located in the Ukraine. 

Getting Zee here would not have been possible without a great deal of patience and assistance 

from our friend Ann Dymytrova - thanks Ann! 

Thank you Tetyana for trusting us with your baby girl.

"Zee's" pedigree is loaded with top winning European Ridgebacks. 

Her sire is Tina Trading Harley Leo - DOB 13-05-2009, 

Owned by  Diana Rogozhyna

"Zee's" mom is Akuo Baako Lion Chaser, Owned by  Tetyana Marina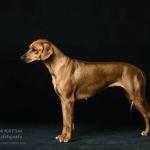 All the way from the Ukraine ....